Lilian Bouregard

Lilian Bouregard, our heroine of Bluedawn Region.

Gender

Female

Age

10

Class

Trainer/Heroine

First Pokemon

Shinx (Nicknamed Mint)

Goals

1) Save Bluedawn from destruction

2) Become Champion

3) Become a top coordinator

Hair color

Dirty blonde

Eye color

Emerald green

Clothing Colors

Purple, Green, Black, White, and Blue
Lilian Bouregard was born to Misty and Ash Ketchum. Ash decided to leave Misty for another woman, so Misty changed their last names back to Bouregard.
Lilian had a fairly standard childhood until she met Billy and Ivy, and close rivalry formed between the three.
When Lilian turned 10, she chose Shinx (which she named Mint) as her first Pokemon, and they set out to get all the gym badges.
Mint (Shinx)
Edit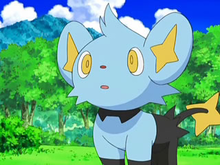 Mint was found by Professor Aiki on a stormy night on the doorstep of the Laboratory, said to have been horribly injured.
Later, Lilian chooses Mint to be her first Pokemon. Mint seemed very pleased to be chosen by Lilian.
Electroball
Tackle
Tailwhip
Thunderbolt
Personality
Edit
Mint is a willing fighter and defender of her friend and trainer, but very mysterious and knowing in nature.
Toffee (Deerling)
Edit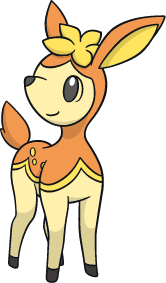 Toffee grew ill with Pokerus after drinking from a nearby pond. A wild Ratata targeted and attacked him, but Lilian stopped it and took the Deerling to a nearby Pokemon Center.
It was there that Toffee saw what he'd always wanted: A friend. He joined Lilian's party.
Grasswhistle
Solarbeam
Hi Jump Kick
Stomp
Personality
Edit
Unlike many of his species, Toffee enjoys having a partner, travel. He doesn't like to stay at Deerling Meadow where he came from, where Deerling come to rejoice and choose mates, rather, he likes to hang out with Mint and sightsee.
Community content is available under
CC-BY-SA
unless otherwise noted.